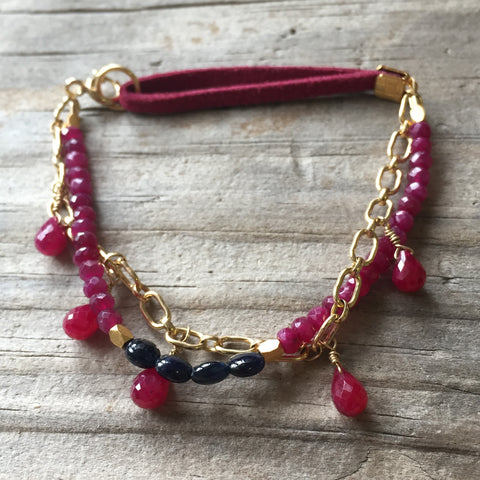 Suede & Leather - Persueded, Fit for a Queen (ruby & sapphire)
I like to mix materials - suede, gemstones, chain - to create a unique bracelet that can go casual or dress up. This one features ruby, thought to be a talisman of passion, protection and prosperity, and blue sapphire, believed to be a stone of wisdom and royalty. Ruby briolettes swing from a lightweight 14kt gold filled chain, paired with a strand of rubies, accented by sapphires and 22kt gold plated beads. Red suede cord adds texture. Finished with a 14kt gold filled clasp. 7¼".   
Materials note:  We recommend limiting exposure of this piece to water, as it may damage or weaken silk thread, suede, or leather.